A total of 34 participants attended the 9th CINS Members Meeting in London on Tuesday 5 December 2017. The Meeting was generously hosted by the UK P&I Club in its London office.
The Event commenced on the previous evening with a Cocktail Reception, a chance for delegates to network, kindly sponsored by Exis Technologies.
Morning Sessions of the Conference focused on the work that CINS is currently undertaking: the Database of Incidents that are reported by Members; and the Cargo Guidelines that are being published
During the Afternoon, three external speakers gave presentations on subjects relevant to CINS Member

The 9th CINS Members Meeting – Meena Sayal (Unilever) presenting
CINS Vice-Chairman Ken Rohlmann, the Meeting's Moderator, opened the Conference with a review of CINS Progress since the June meeting. He also presented the projects and activities planned for 2018
Colin Rubery, Technical Secretary, gave an analysis of the Incident Reporting over the past year. He confirmed that the number of incidents reporting from April to November this year was 919, compared to 595 last year.
James Douglas, Exis Technologies, explained to the participants the updated Data Entry System and presented the new Data Entry User Guidelines

James Douglas, Exis Technologies
Jean-Christophe Triat, MSC, presented the Reporting Criteria Guidelines, which have been prepared – to assist companies understand what incidents should be reported.

Jean-Christophe Triat, MSC
Flexitanks: An additional presentation was given by Colin Rubery, explaining the work that the Container Owners Association (CINS Honorary Member) has been undertaking to develop a coherent risk management process for flexitanks
There were three external speakers in the afternoon.
Meena Sayal, Global Brand Protection Director, Unilever, spoke on "Preventing the maritime transportation of counterfeit goods", explaining how intellectual property rights owners, vessel operators and law enforcement are working together to share information to prevent this fraud. She gave an update on BASCAP (Business Action to Stop Counterfeiting and Piracy).
Peter Schuurman, Global Transport & Product Safety Manager, AkzoNobel Polymer Chemicals, spoke about the work of EOPSG – the European Organic Peroxide Safety Group.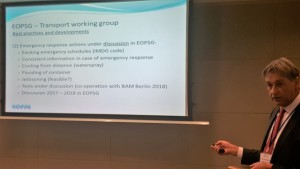 Peter Schuurman, AkzoNobel Polymer 
Henrik Uth, CEO, Survey Association Ltd, gave delegates information about a new concept for finding cargo surveyors around the world.